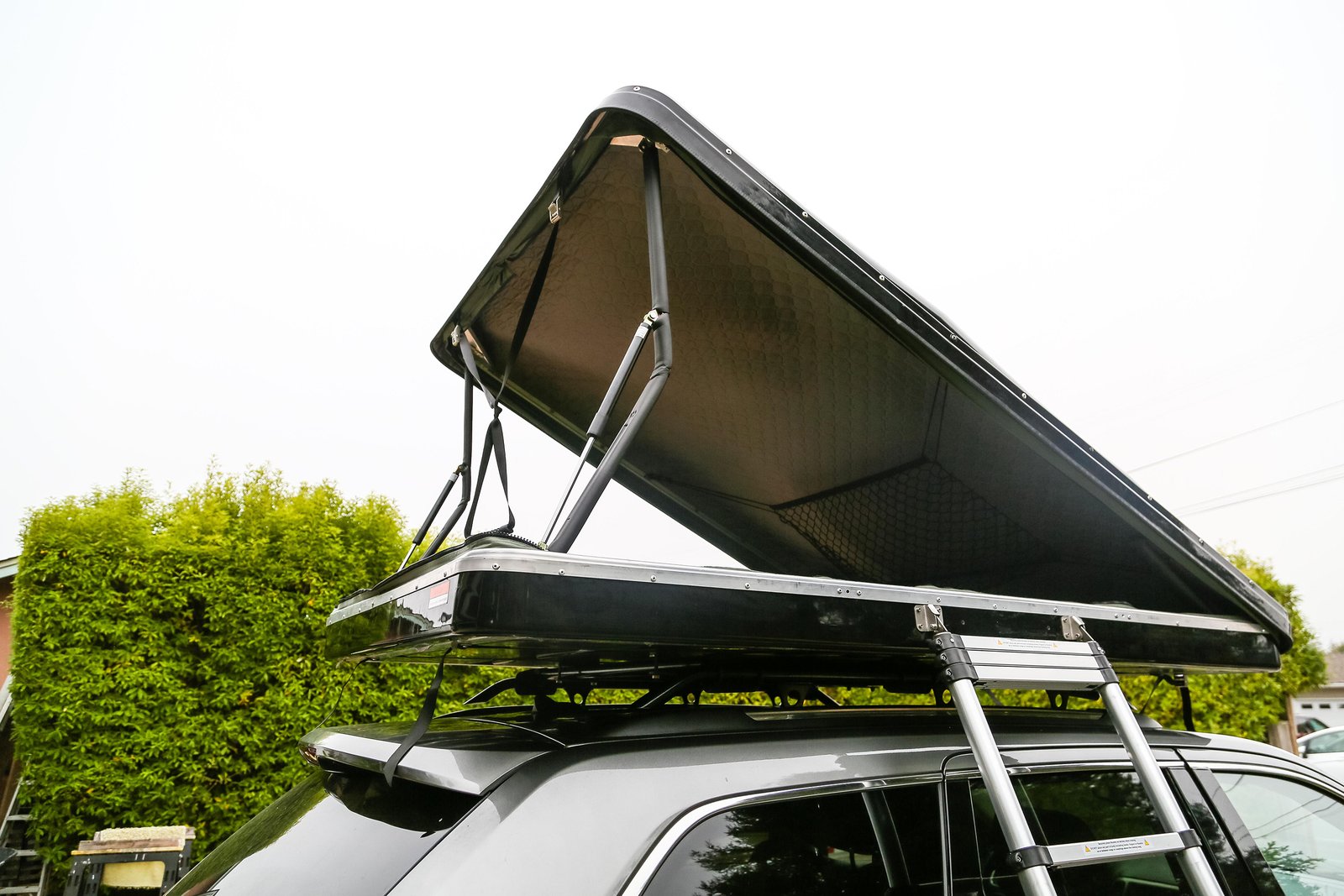 Tepui HyBox
EASY ACCESS: Release latches on both ends to open into a pop-up rooftop tent, or open one side for easy access into the cargo storage area.
UNIVERSAL MOUNTING: Mount directly to the rack or aftermarket bars on your vehicle.
CARGO SPACE: HyBox provides 23 cubic feet of storage space- more than many other brands' largest containers.
HARDSHELL CONSTRUCTION: The unique aerodynamic shell design with the Tepui badge embedded in the upper shell provide a fuel efficient and quiet ride. The interior upper is lined with a reinforced quilted insulation for sound damping and cold weather insulation. The patent pending lower shell combines ABS, welded aluminum substructure with unique felt lined honeycomb Tepui Tecpolypropylene panels that provide the reinforcement needed to store you or your gear.
CANOPY: The HyBox canopy is an optimum blend of 260g cotton and polyester coated to a waterproof rating of 3000mm yet breathable providing both comfort and protection. The canopy is trimmed out with no-see-em mesh, YKK zippers, and our patented ZipperGimp™ providing the versatility to quickly remove the canopy and convert your trusted shelter into a durable cargo carrier.
ACCESSORIES: The Hybox is equipped with one 8ft-6in telescoping ladder that can be attached on either side of the tent for easy access. The doors to the canopies, when used with the provided window spring rods, act as an awning to provide shelter when entering and exiting the tent. A 3" 40lb foam mattress with removable cotton cover provide an excellent sleeping pad to help you get the rest you need while on your next adventure. It is also quickly removable when using the HyBox as a cargo carrier.
SPECIFICATIONS
Sleeping Capacity: 2
Seasons: 4 Seasons
Size (Closed): 55" x 84" x 12.75" (WxLxH)
Size (Open): 55" x 84" x 42.75" (WxLxH)
Sleeping Footprint: 51" x 81" (WxL)
Canopy Fabric: 260 g Polyester coated to a waterproof rating of 3000mm
Mosquito Screens: no-see-um mesh on all 4 openings (2 doors and 2 windows)
Rainfly Fabric: N/A
Mattress: 3" 4olb mattress with removable cotton cover
Travel Cover Material: ABS Hardshell
Weight: 155lb without ladde, 175lb with ladder
Internal Frame: 5/8" aluminum tube
Base construction: Hardshell: 5mm ABS with both UV inhibitors and color fade inhibitors. Lower shell: Combines ABS, welded aluminum substructure with unique felt lined honeycomb Tepui Tec polypropylene panels for reinforced support
Ladder Construction: 8ft-6in Telescoping Aluminum Ladder